Artificial intelligence tech community relocates headquarters to Media City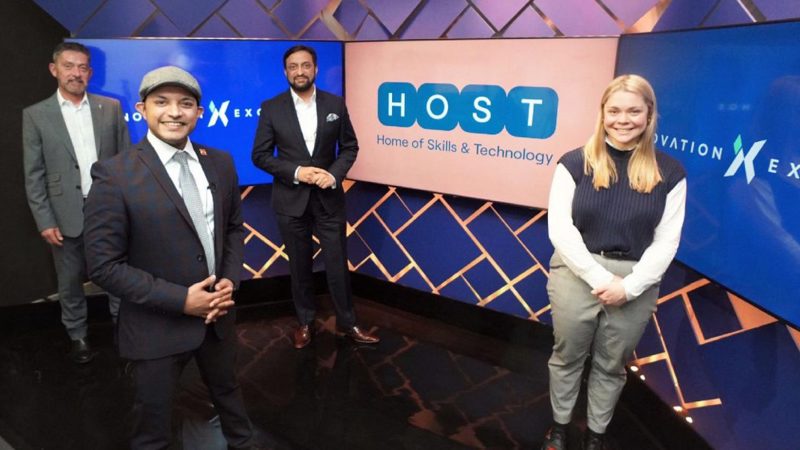 The largest artificial intelligence community in the North has moved to the pioneering innovation hub at Media City in the digital-city region of Salford.
Collaborative platform Innovation Exchange (IX) will deliver expert masterclasses, technology showtime and advanced technology content digitally through its state-of-the-art TV studio in its new headquarters at HOST, the Home of Skills & Technology, operated by IN4.0 Group.
Alongside its office and studio space, Innovation Exchange will also join as a member of the HOST community, which brings together leading innovators in data science, cyber, AI and immersive technologies.
Innovation Exchange offers the digital ecosystem the ability to run an 'Event in a Box,' where it can run digital events from its IX studio and also offer a comprehensive one-day package that covers all aspects of digital event production. IX runs the event from the TV studio, managing the filming and recording so that it is entertaining and captivating for an audience.
This follows the recent establishment of HOST's unique Security Operations Centre (SOC) cyber support as a service. The centre provides public sector organisations, enterprises and SMEs with a secure, tailored and scalable cyber solution, which Innovation Exchange will support as part of its collaboration with HOST.
Innovation Exchange helps organisations to learn and adopt AI strategies and solutions with an ethical perspective, which aligns with HOST's own shared values.
With its abundance of global AI knowledge, Innovation Exchange will support the acceleration of diverse talent from HOST's Skills City as well as the delivery of its bootcamp academies, aimed at providing fairer access to digital and technology career starts.
Entrepreneur Sherin Mathew, former Microsoft analytics and AI lead at IBM, founded AI Tech North in 2018 and launched Innovation Exchange in March 2020 with a mission to democratise innovation, share knowledge through the new global events platform. IX and AI Tech North will be running a series of innovation events in partnership with HOST to further propel its AI offering.
AI Tech North also spearheads its annual Great Northern AI Summit, which gathers together AI experts to share their industry insights on topics including smart cities, fintech and health. HOST is proud to support the first AI summit, attracting over 2,000 AI enthusiasts under a single platform.
Mo Isap, CEO of IN4.0 Group, operators of HOST, said: "We are excited to welcome Innovation Exchange to HOST as its new headquarters, so we can work together in expanding the AI community in the North with an inclusive offering to Skills City's learners and organisations across the public and private sector.
"We are on a mission to make technology widely available. AI's benefits are huge, but we must increase access, share knowledge and improve understanding to enable both people and businesses to benefit. Ultimately, this will drive prosperity in the region and champion ethical solutions for innovations, particularly in AI technology."
Sherin Mathew, CEO of Innovation Exchange and AI Tech North, said: "We want to democratise innovations and share knowledge. True knowledge is something that you cannot just Google. Hence, it's important to bring innovation exchange to accelerate and empower sustainable futures with new technologies.
"We are super excited to have our own studio at HOST, in the heart of the digital capital of the North and we would like to thank our partner HOST for making this happen!"
Published by: Matt Cuerden
Date: 19 May 2021
Make a home at HOST
Join a new kind of collaborative community with the most exciting opportunities for innovation and business growth