HOST launches unique bursary scheme to make a life-changing impact for underrepresented and disadvantaged people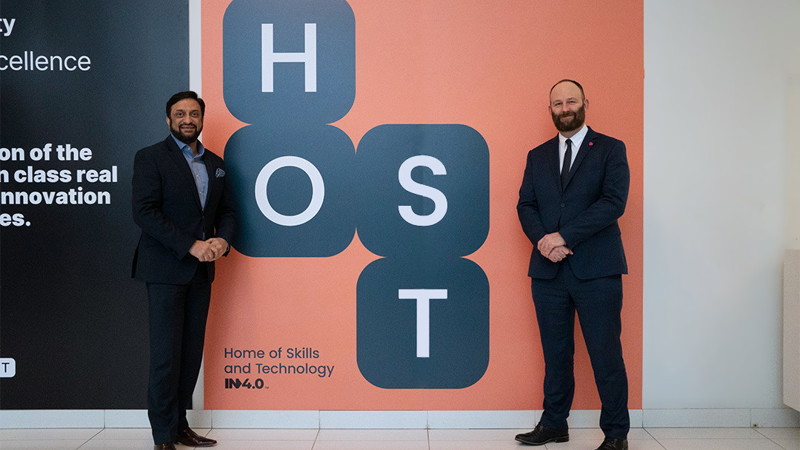 Innovation hub HOST, the Home of Skills & Technology at MediaCityUK, has launched a new bursary scheme to support underrepresented and disadvantaged individuals and entrepreneurs to help them gain access to training opportunities and growth programmes.
This unique scheme comprises three areas of support for those from a disadvantaged and diverse background - local talent into highly skilled jobs, entrepreneurs to start up and businesses to scale.
The HOST Bursary Scheme will support talent across HOST's Skills City, which includes training at the UK's first Unity Centre of Excellence and programmes such as the Cyber Innovation Lab and the Unity Innovation Stream.
HOST is committed to championing fair access to technology futures by transforming talent diversity, breaking the barriers faced by those from underrepresented and disadvantaged backgrounds, and fast-tracking 450 people into digital technology careers every year.
To achieve this ambition and continue to reach diverse and underrepresented individuals and start-up businesses, HOST is inviting organisations to pledge their support as a bursary partner or a patron.
By supporting the bursary, organisations will make a real life-changing difference to local talent that would not have otherwise been able to access the kind of programmes, training and support that HOST offers.
This dedicated funding could be invested towards helping a diverse or disadvantaged learner experience world-class Unity training at Skills City, so they can then be supported into a highly skilled technology career start.
The bursary could also help a female entrepreneur access the FreelanceHER 100 programme and a 12-month membership at HOST, or it could provide a start-up entrepreneur with the opportunity to join HOST's incubation programme.
The Covid-19 pandemic has had a huge impact on local Salford residents, recognising the need for more opportunities as 2,785 people, aged 16-24, are now claiming unemployment related benefits, an increase of 1,400 since March 2020.
Yet, with the backing of a bursary patron, an individual or company from Salford could be supported into a digital career at Media City.
Having previously launched the ground-breaking FreelanceHER 100 accelerator programme last year, HOST funded places for over 50 per cent of the women who took part as they were ineligible for external support.
Mo Isap, CEO of IN4.0 Group, operators of HOST, said: "We are really passionate about creating opportunities, jobs and training for those individuals from disadvantaged or underrepresented backgrounds. Diversity and inclusion are in our DNA, and we are all about the people we can support which is why we have established the HOST Bursary Scheme.
"With the help of our bursary partners and patrons, we will be able to guarantee the long-term sustainability of access to our programmes and services so we can continue to deliver tangible jobs and life-changing opportunities to the people we support. This bursary will be the bridge to prosperity for those furthest away from technology futures."
Salford's City Mayor, Paul Dennett, said: "It's great news that HOST is scaling its ambition and establishing its Bursary Scheme for Salford and for local people and businesses, who will massively benefit from the support on offer. It will unlock opportunities and drive growth at a time when the pandemic has impacted the availability and accessibility of jobs, skills and training in digital technology. The need to foster and nurture new talent is needed more than ever before and with initiatives like this, it's an exciting future ahead and will encourage the city to thrive."
For further information about the HOST Bursary Scheme contact Dale Sidebottom, Partnership & Innovation Manager: dale@in4group.co.uk
Make a home at HOST
Join a new kind of collaborative community with the most exciting opportunities for innovation and business growth